The year keeps rolling on, and we've been busy at WorkGuru improving out platform to enable you to get the most out of it!
October Releases
In October, we're said we'd focus on 3 major release items, and we're (mostly) happy to report that Lead Tracking, Email Integration with WorkGuru, and Weekly Timesheets will all be released this evening. There's a quick recap on what that means below.
Lead Tracking
WorkGuru's lead tracking allows you to track the value, owner, stages and likelihood to close (LTC) of your opportunities. You can now schedule follow up calls, meetings, and any other activities you define, as well as who is responsible for them. These activities are also incorporated into the individual's user dashboard giving your sales staff a to-do list for the day!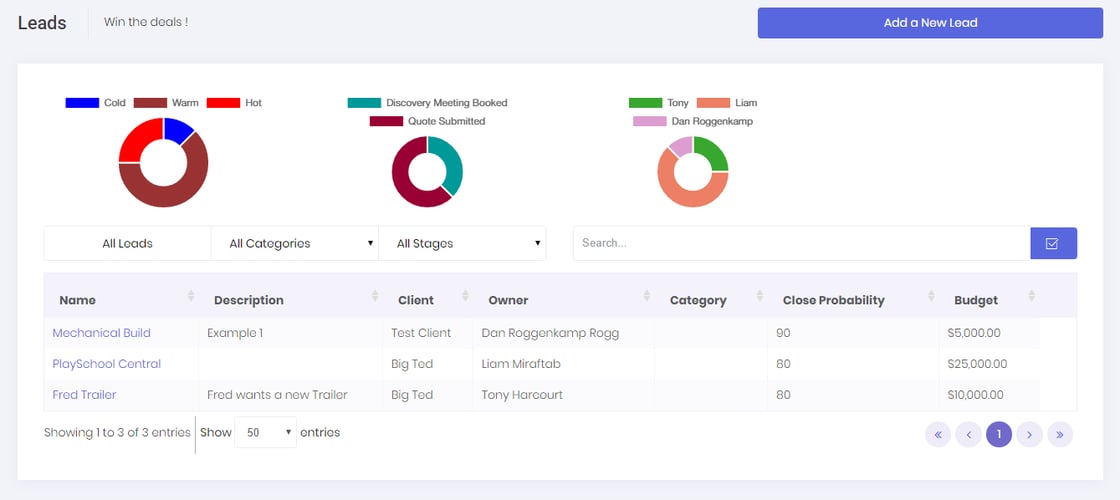 Email Integration
The second major item that's going out this afternoon is for an email integration to allow Project and Lead emails to be attached automatically to the correct job when you CC the email to yourbusinessname@workguru.email. This integration will read the email, attach the contents as a note to your projects and leads, and any files will also be attached in WorkGuru. This means that you can always have a proper email trail of your communication with your clients.
Weekly Timesheet
Our Weekly Timesheet is being released for all you engineering and professional service folks out there. This lets you select multiple projects and tasks from a single screen and enter your timesheet entries for the week quickly and easily.
Unfortunately, we missed a bit
Ok.. I'll confess, I may have been too ambitious in terms of what we were trying to get out this month, and so we missed our target on integrating the timesheets into Xero. This is a little bit trickier than we thought, but we're committed to getting it done, and we're working on the release to be ready ASAP.
November Roadmap
For November, our first focus will be on completing the timesheet integration with Xero.
Upload Parts List to Quotes and Templates
So for everyone using CAD programs out there, who's looking to upload a parts list into your quote, or project template, we'll be releasing that in mid-November. We know that it's a pain to type out 50-100 parts that you use on a job, so we're going to make that process as easy as possible.
Improved Onboarding Process
One of our long-term aims, is to enable our clients to get the most out of an onboarding process as possible, as this will ultimately be the difference between the success, and otherwise of our new clients. This month, we'll be putting a lot of effort into streamlining the onboarding process, adding videos, and automated guides to get you up to speed faster.
Remember To Book Your Demo
To get a full overview of WorkGuru for you, or your clients, book a time using the link below
https://calendly.com/workguru-team/workguru-demo-and-discovery