There are a few WIP reporting tools to have in your kit that make sense when you want to get more visibility over your projects. WorkGuru is packed with these timesaving and workflow improving features that help you get the most out of your projects and understand what's happening in your business.
Here are the top four WIP reporting tools in WorkGuru that will make you wonder how you managed without them!
Up-to-date hours and stock reporting
Because WorkGuru is designed to help you track not only the WHAT but also the WHEN, you can get clear insights about what is happening in your business almost instantly. WorkGuru has tools, like the Kiosk, that help staff input information as they work, so you can keep your stock records up-to-date as projects get done.
In means that whenever the client rings and wants an update, you can provide them with the most current information available without having to bother your team, the information is already there.
The WorkGuru Kiosk helps your staff input information quickly. Take a look at the video below to see how.
Easy to check metrics
Each and every project and project group in WorkGuru has quick metrics on the dashboard that show you how that job is progressing. In a couple of seconds, you can see information like the number of hours worked vs. the quoted number of hours, the number of tasks completed, how much has been invoiced and expecting to be invoiced, your costs and profits.
It means that you can get a snapshot of your jobs without having to spend time running a report or chasing your team for answers. Your team also now have the tools to check their profitability and time themselves, making it easier to stop issues like overtime before they happen.

Milestone invoicing templates
Part of WIP reporting is reporting your work back to the client. It's especially important on longer jobs to keep your customers informed of what you're doing and assure their project is on track. One of the tools that WorkGuru gives you to do this is milestone invoicing.
Our specially designed milestone invoicing or progress invoicing templates can help you easily communicate the progress of a project that you are working on. The template shows the client what has already been claimed, the percentage claimed on this invoice and the remaining balance that will be left.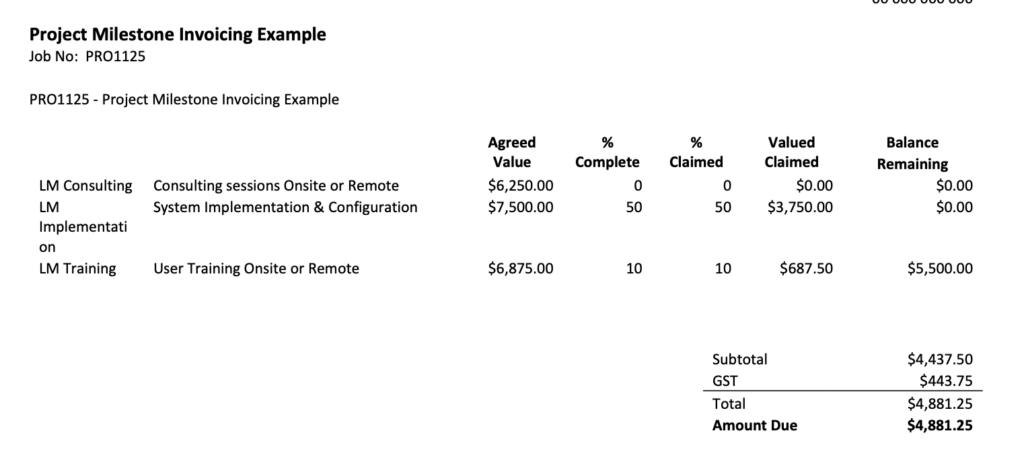 Sign-off whenever you need it
Rounding out the list, the powerful Forms feature has made it easier than ever to keep time-stamped, signed documents as part of your WorkGuru project management. The tools allow you to build out a customs form with any fields you need make reporting on your projects easier. One of the most popular uses is to create timesheet sign-off forms, which allow your on-site supervisor to confirm the hours worked by the team every day or every week.

Watch the video below to see a timesheet form in action.

Want better WIP Reporting Tools?
Get a free demo and experience what WorkGuru can do for your business.
[contact-form-7 id="6" title="Contact Page Form"]