Hydromech Hoist and Crane has over 45 years of records to modernise…
Here's how they are doing it.
When Michael Leeds took over as director of Hydromech Hoist and Crane, the business had been operating for over 45 years, building, repairing and maintaining overhead cranes and hoists across Australia and the world, and had the records to match this legacy.
As the business has always been a go-to place for unique solutions there was a lot of history, including project notes and unique designs from bespoke products. Michael knew that the only way the business could continue to grow and provide an excellent service to new and existing customers was to modernise how they stored and used the huge amounts of valuable information the business had.
So, the hunt for the right solution began. The right software needed to be able to make best use of the existing records the business had, while also improving the other aspects of the business that helped Hydromech maintain their great service. After six months of looking into add-on products for Xero, Michael couldn't find a solution that did it all. So, when WorkGuru was recommended and covered everything he needed, Michael couldn't be happier.
Who is Hydromech Hoist and Crane? Hydromech Hoist and Crane Pty Ltd. has been involved in the supply and assembly of products used in the hoist and overhead crane industry and associated service industry. Specialising in bespoke solutions and products, reach out to the team for your cranes and hoists needs Australia-wide.
Hydromech can respond fast to urgent requests
"If someone has a breakdown, they can't wait three days for a quote," says Michael, "and thanks to WorkGuru we are now able to act fast and with certainty."
The dashboards, easy quoting tools, and up-to-date stock information means that in a couple of clicks the whole team is able to accurately confirm urgent work and help customers get back to work quickly. Anyone in the team is able to pick up the phone, see if they also have the necessary parts for a repair in stock and give them an accurate idea of cost.
"We are always looking for ways to serve our customers better, and being able to be so responsive lets us do just that," added Michael.
WorkGuru more than pays for itself
"WorkGuru saves us over and over again on stock and staff time, plus we get so much visibility over what's happening and that helps us save too," commented Michael on whether WorkGuru is worth the investment.
"For example, in the past we might have missed $50,000 of stock we had and might have ordered more in just because we didn't know we had it. That just can't happen anymore".
Because Hydromech can see how much time and stock the team is spending on projects, the visibility has helped them to gain more control over their costs and profits.
The software keeps developing, so our savings are just exponential as we get access to more and more tools.
Maintaining decades of assets management
WorkGuru allows businesses to store and easily find heaps of information. This has come in handy to modernise Hydromech's decades of project notes. The software allows you to record contacts, jobs and assets in separate but linked sections.
For every asset, such as a crane that Hydromech has built, they are able to record all the work that has been done from the initial build to every part that has been shipped or installed. They can also upload files such as signed quotes or agreements. All that information is available in one quick search.
"We can integrate all our history into the system," said Michael. "Taking 45 years and pulling it into a modern solution takes time, but the value is just incomparable."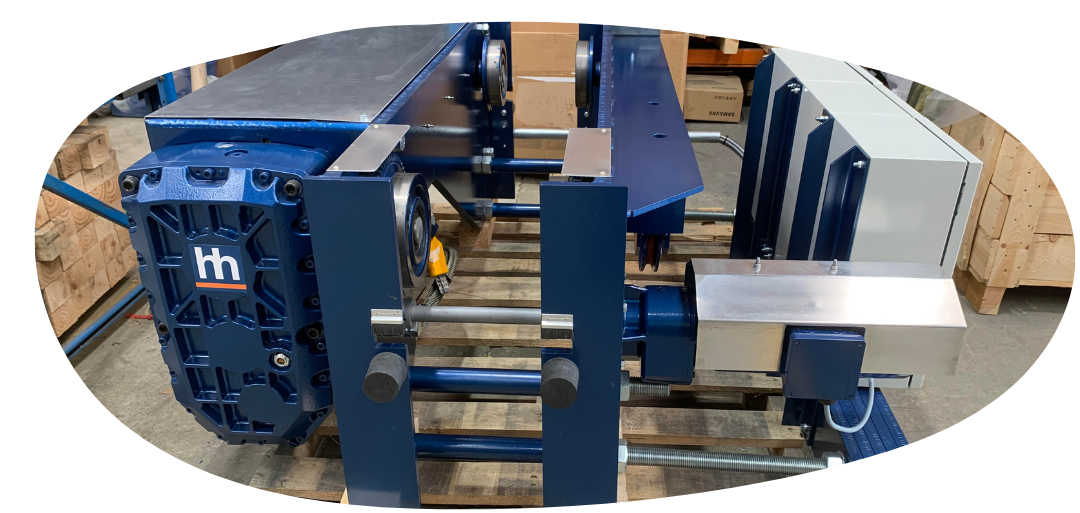 WorkGuru gives your business more time and more control
"We have a great team here, so giving them the right tools for the job has made such a difference" added Micheal. All of the team are able to submit their timesheets quickly and manage their projects as they go so everyone is saving time and the business has an up-to-date snapshot of what's happening.
We have one computer on the floor that manages all the staff's time and all of the projects - it couldn't be more simple!
"If you want to put your finger on any facet of your business in the quickest way possible, WorkGuru is an exceptional investment," Michael added. "I'd recommend it to anyone... except maybe our competitors!"
Want to learn more about WorkGuru?
Get a free training session with our team to see how WorkGuru will benefit your business. Get in touch today.
Check out Hydromech to learn more about how they might help your business.


Ready to get started?
Reach out today to get a WorkGuru.io demo